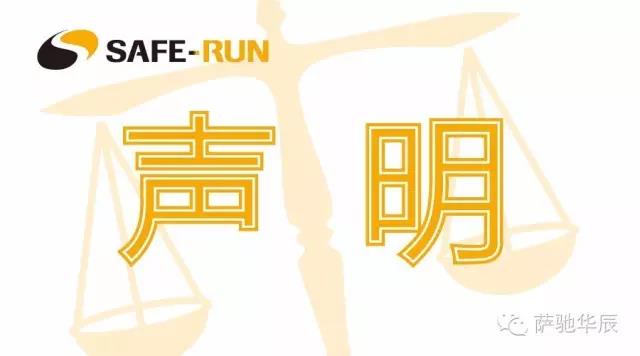 Safe-Run releases the following official statement against a report(The Report) titled "The Court: Chinese tire equipment company lost lawsuit" and published by the public ID of Wechat called "Tire_dealer" on 31th OCT 2016 because the report is not true and clearly shows a malicious bias against the company.
1. In the Report, it was reported that "the Patent Reexamination Board (PRB)under State Intellectual Property Office(SIPO) has ruled that a patent of Safe-Run is invalid in this case". That points to a Decision on the Request for Invalidation (Decision) is sued by the PRB on 22nd August 2016, announcing that Safe-Run's utility model No. 201220228005.6 is invalid. This Decision has not come into force till now. Moreover, the said invalidated utility model is not currently applied to any of Safe-Run's products. Thus it will not bring any impact on Safe-Run's products and business.
2. The purpose of this administrative Decision is to determine whether Safe-Run's utility model No 201220228005.6 is valid, rather than if Safe-Run's products infringe VMI's patent rights. Whether Safe-Run's utility model is invalid does not have any connection with whether Safe-Run's products infringe VMI's patent right.
3. In fact, Safe-Run already filed several lawsuits for confirming non-infringement respectively before Shanghai Intellectual Property Court and Suzhou Intermediate People's Court in April 2016 and July 2016,demanding the Courts to confirm that Safe-Run's products do not infringe VMI's patents rights. VMI has filed another 3 patent infringement cases against Safe-Run on 20thAugust 2016, which are all before Suzhou Intermediate People's Court. Safe-Run has actively started the preparation for the response. Currently, these 3 cases have not come into substantive hearing stage, not to say that VMI has won the patent infringement lawsuit or Safe-Run has lost the lawsuit. Therefore, "Chinese tire equipment company lost lawsuit" in the Report is fabricating stories rather than truth.
In view of the seriousness of the matter, the report from public ID of "Tire_dealer" distorted the facts and misled the public by presenting partial facts, resulting in irrational public opinions deviating from the truth, which has brought serious negative influences on Safe-Run. Regarding the untrue report or statement, Safe-Run reserves the right to pursue its legal responsibility and orders the related media to correct untrue report and apologize immediately.